This week I had the chance to attend a superb conference on Brexit at the Maritime Museum, on the Albert Dock in Liverpool. The day was put together and co-ordinated by Professor Michael Parkinson, and the Heseltine Institute for Public Policy and Practice at the University of Liverpool.
The conference included some fantastic speakers including Lord Heseltine; Professor Janet Beer, Vice-Chancellor of the University of Liverpool; Professor Michael Dougan of European Law, also at the University; and Joe Anderson, Mayor of Liverpool. There were also business leaders, and commentators including Chris Hearld, Senior Partner of KPMG; Ed Cox, Director of IPPR North; and Alexandra Jones, Chief Executive of the Centre for Cities.
Prof Michael Parkinson began the conference with the major points that Brexit is the most "crucially important issue since the Second World War", and makes the way ahead domestically and internationally uncertain. Cities, Universities and Businesses will be important in "planning for the long and winding road ahead", and have to brave and say what it is we want. He stated we can have the best opportunities and discussions to understand what happened, while minimising risks, and coming up with key action points.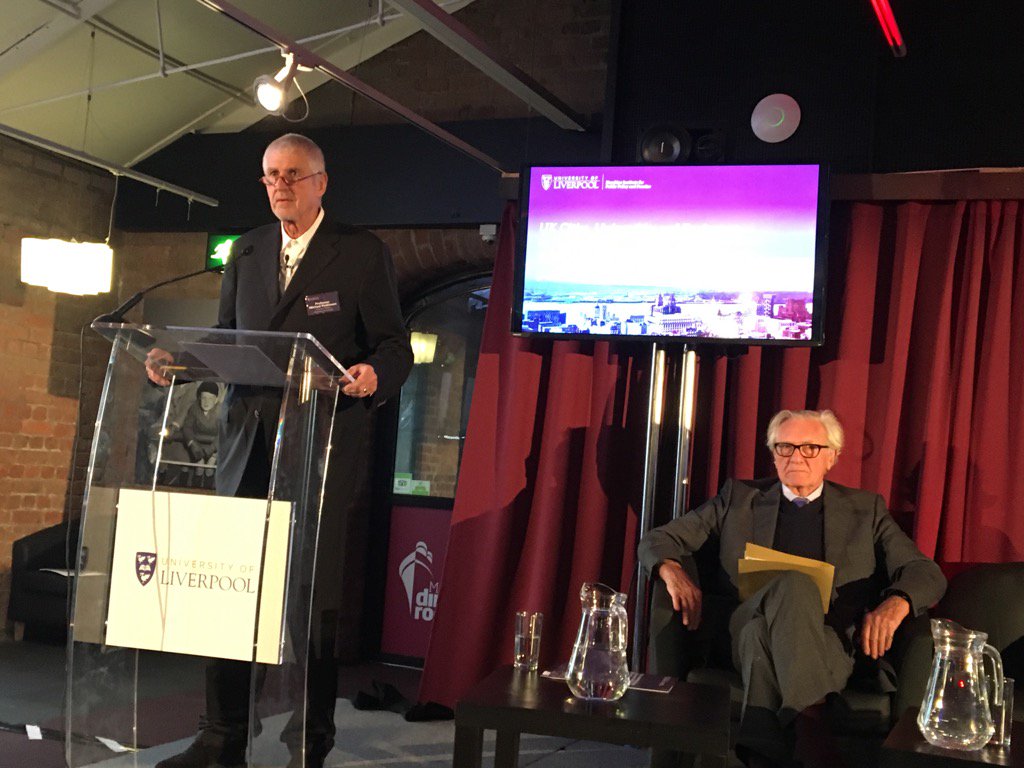 Lord Heseltine was then introduced as being supportive of the city & university, and a committed European & businessman. He started his speech with there are "a lot of questions on the agenda, and many unanswerable". When he first came to Liverpool as an MP and Cabinet minister the Albert Dock was written off, but now has been transformed along with the city. When looking to the future remember how Liverpool has changed since 1979, and it will be unrecognisable in the future again. There will be a "re-configuration of power" with the public and private sectors, including universities and local authorities working together. "However "in politics your solutions create the next generation of problems". Lord Hesletine sees education as one of Britain's biggest problems, with literacy and numeracy standards at primary level.  Devolution by a communication revolution and change can lead to the creation of "local visions and involve communities in making them." Unemployment should also be at the top of the devolution agenda in this community based approach. One of his ideas links to his passion as a horticulturalist, as communities can get together regenerating open spaces while learning new skills.
He believes there is a "toxic mix when living standards freeze" and led to the vote to Leave in June. It is in "Britain's self interest to be in Europe", with all 27 other countries agreeing, and "Europe is significant as changed into a parliamentary democracy", and has led to peace across the continent. The 27 other Eu nations have to be persuaded during negotiations, and there are "hundreds of versions of Brexit that could be made, so uncertainty." "Rising inflation could see wages not keeping up with price rises", and  public opinion is also not static, and "didn't stop in June"  and could lead to re-thinking in parliament. Elections in France and Germany next year could also lead to changes in their governments, possibly more right-wing following from the vote here and Donald Trump in the US. The speech was ended with there is a "serious prolonged period of uncertainty ahead." There was a huge round of applause for this great start to an inspiring day of speeches and discussion.
Vice Chancellor; Prof Janet Beer was the next speaker, who talked about how will universities sustain their European engagement? She spoke about embracing the challenge of the Leave vote, and looking at the opportunities. "Let`s make the university an attractive place for international students", as they continue to be a success story for the UK. They need "growth locally", be "globally connected", and have the "right investment from government to thrive outside of the EU". "Universities in the UK are adaptable and forward looking, and with the right support/investment" can play vital role in our  global success. She would also "like to see commitment from government to replace lost research funding from exit of the EU". The five main points she mentioned in regard to universities were:
Encouraging students from around the world to study in the UK
Enhancing international research collaboration
Making the UK an attractive destination for talented international university staff
Increasing public investment in research and innovation
Giving UK students and staff access to global opportunities
Prof Beer also highlighted the positive financial impact of universities on the UK's economy, a figure she put at £73 million annually, whilst calling for an end to the uncertainty surrounding EU students access to finance and tuition fees for those beginning studies in 2018/19.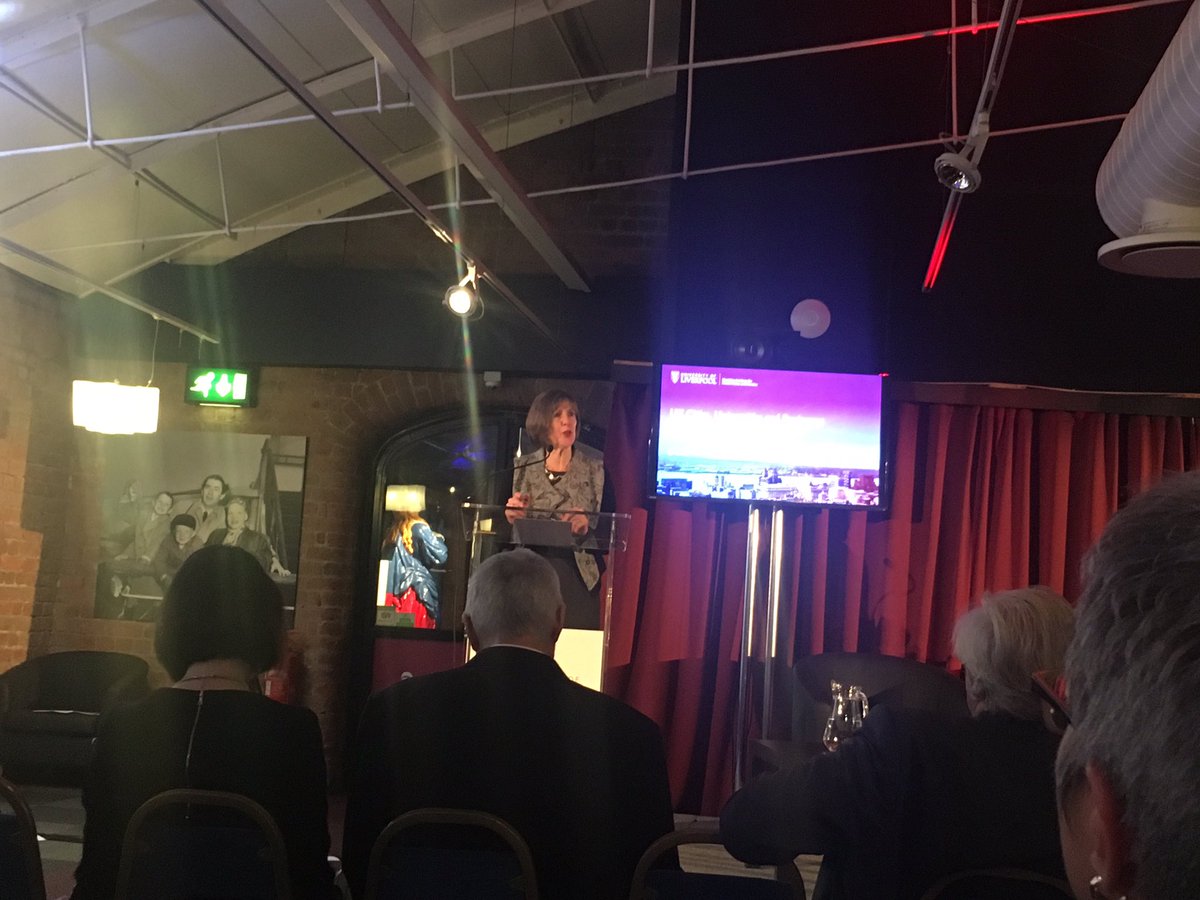 Prof Michael Dougan; who specialises in EU law, and had videos go viral online during the referendum campaign was next up, before a short coffee break. He discussed how the UK legal system will adapt to the leaving the EU, and constitutional issues. There are "uncertain challenges ahead" in this "de-europeanisation" to tackle this change, and there is "no simple solution" in how the government creates a strategy to preserve the legal system. There will also be changes in the EU itself, and from elsewhere and "Brexit is only one of it's problems", although the "referendum has given the EU an urgency to reform. Alison McGovern MP asked about will elections in France and Germany upset reforms, which could lead to more uncertainty ahead. His last point was "it is still possible to stop Brexit legally, but the longer we wait the more it becomes accepted fact."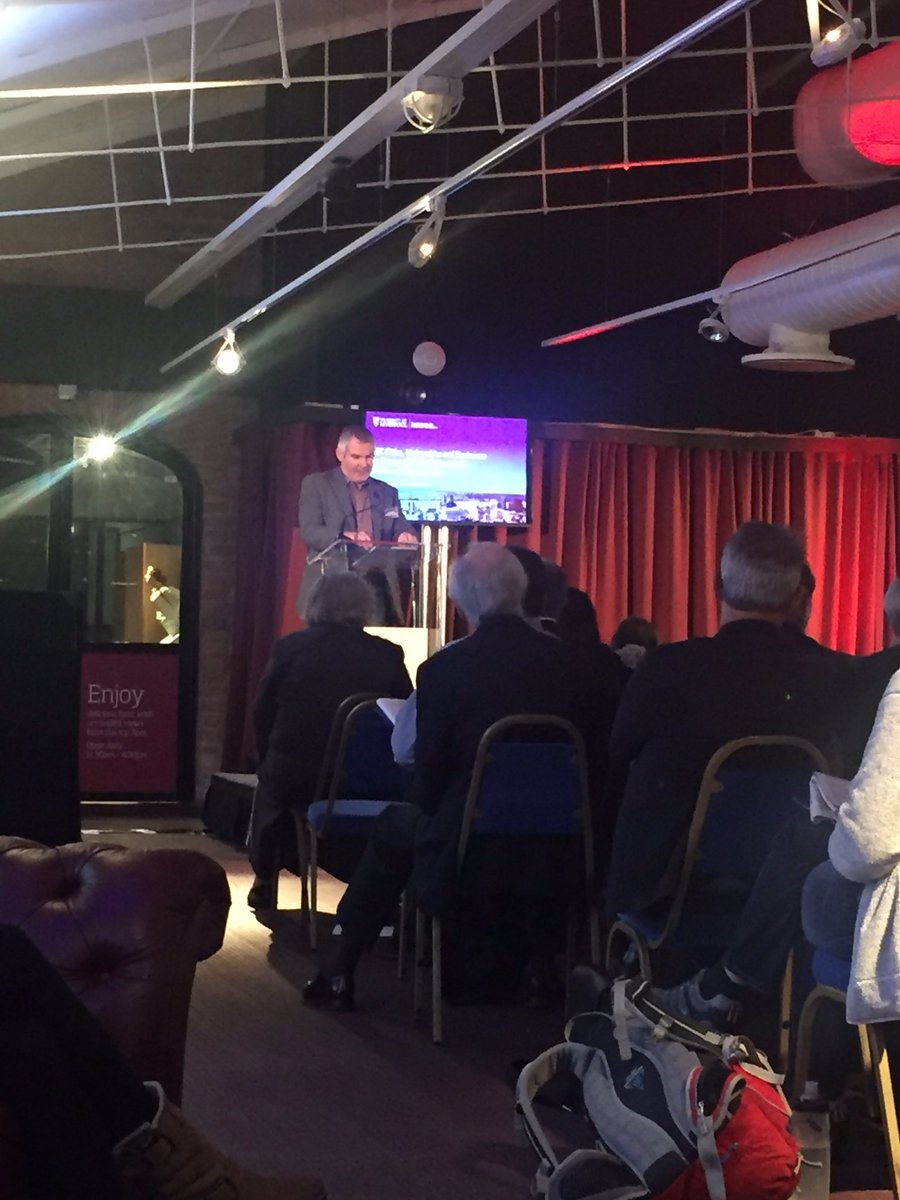 Chris Hearld, Senior Partner at KPMG North spoke about the private sector's views of risks and opportunities with Brexit. He said that Brexit was  a poke in eye for businesses" in the Northern Powerhouse but north stays pragmatic, even with the uncertainty. Do some feel globalisation has left them behind so voted leave? There are "more risks then upsides", and will be volatility ahead in foreign exchange markets, and a visible positioning on pricing, with inflation and squeezed margins. He stressed the implications for the grocery sector with "Brexit was a marmite issue, and now marmite is a Brexit issue". In the mid term access to skills here isn't working so skilled migrant labour is needed, and the "weakness of the pound has lowered conversion into other currencies" for migrants, meaning harder to encourage over here. Some positives however could be a "fundamental re-think on regional growth" like the Northern Powerhouse, the "skills agenda" and thinking innovatively."Benefits will come long term", and "let`s have a consistent narrative to drive forward northern businesses", and challenge the uncertainty.
Jo Beall, as Director of Education and Society of the British Council spoke about; Global Britain beyond Brexit. Jo said "we have many unique soft power assets that we can be proud of", and need to "keep up the role of Britain in the world". Resentment can't be allowed to take over, with education being key here, as a "global survey found a big fall in the number of young people interested in coming to UK" to visit, study or work after Brexit. She said the "UK needs to continue bidding into Horizon 2020 (EU science funding), and let`s be active and not self limiting." The politics of resentment needs to be challenged as we show Britain is outward looking and not xenophobic.
Professor Philip McCann of the University of Groningen; who holds the Endowed Chair of Economic Geography spoke next, about how UK city regions have benefited from Europe, and must continue to do so in future. His argument illustrated the continued north-south divide in UK which Brexit will not fix, "with the places that voted to leave are the most economically dependent on EU", e.g in north and midlands. There is "widespread opportunities for policy learning from Europe" as the UK is the "most centralised country that has governed the most unequal society." Also no regions in the Netherlands are as poor as people in the south east of England. He concluded while quoting his book; The UK Regional-National Economic Problem: Geography, Globalisation and Governance, that the UK is un-remarkable and "average on everything" when looking at statistics.
After a tasty buffet lunch with the chance to network; Alexandra Jones, Chief Executive of the Centre for Cities spoke about; what's next for UK cities after Brexit? Understanding what is next after the referendum and US elections needs to be be clearer. "Uncertainty over months and years" will lead to investments and jobs being paused and possibly cancelled. "If businesses don't know soon, they will push the button anyway because they can`t handle uncertainty". We need to make more of our cities with access to skills, a change to strategy moving forward. "International sister cities" should be found to "boost economic collaboration" and we need to stay engaged with European cities, and more longer term planning is needed to evolve in a "fast changing environment".
Ed Cox, Director of IPPR North; spoke about how, will and should the North respond? He talked about "making the North of England the place  to be in Europe"and create a vision of seeing it's potential. Strategies have got to be "place based and make room for regional differences". The Northern Powerhouse is the closest we have to the kind of vision we could have linking the cities together but a "Great North Plan based on strengths, assets and city region collaboration" should be made.  He showed a chart outlining 6 elements which will bring things together in a 20 year period: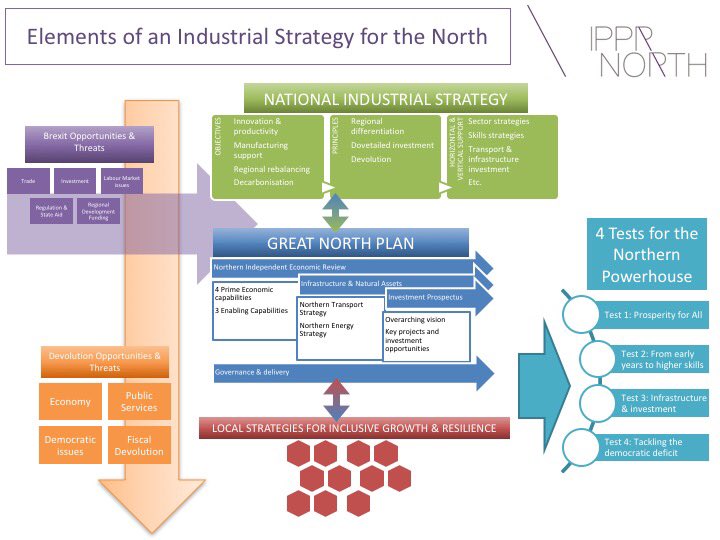 The Mayor of Liverpool; Joe Anderson had sometime to come and give a talk during his busy schedule on; How is Liverpool rising to the challenge? He talked about the particular implication for ethnic communities in Liverpool, and fighting racism by getting faith leaders together to make everyone feel welcome. "As a proud European, the vote was a shock and am proud Liverpool voted Remain", especially being a cosmopolitan and welcoming city. The mayor said it is important we continue with events, partnerships and investments to "present Liverpool as a core city in England and the UK". Forums like this need to be continued and we need to think ahead while "being positive".
The last session before a summary at the end of this engaging and inspiring day was a panel discussion on; What is to be done? On the panel were; Colin Sinclair, Chief Executive of the Liverpool Knowledge Quarter; Asif Hamid, Interim Chair of Liverpool City Region LEP; Max Steinberg, Chief Executive of Liverpool Vision and; Professor Gary Cook of the Management School at the University of Liverpool. Asif Hamid talked about being proud of this great city, and there are opportunities for investment. Max Steinberg outlined the risks including inflation rise, sterling continuing to be volatile, and businesses not surviving. There are opportunities however with marketing, trade and partnerships with China, and investing in technology to make prices competitive. Max also said "Brexit might not mean Brexit, and is still room to play and admit mistakes". Colin Sinclair talked about the Knowledge Quarter being a large part of the city centre, and the city being one of "opportunity and optimism". An audience member commented that "Liverpool is too male" and should be more female voices moving forward. A hard Brexit will not be costless says Gary Cook, and mythologies about trade, inward investment and immigration need to be challenged.
Chief Executive of Liverpool City Council; Ged Fitzgerald closed  superb a day of discussion with there are challenges and we are"all looking for certainty" in the economy, trade, universities and many other areas. In his own words "Brexit won't stall the success of Liverpool", and we can get on with the opportunities by building on partnership, networks and collaborations. Ged thanked all the speakers and Prof Parkinson for the conference which was put together incredibly well in my view. It was apparent Prof Parkinson had spent much time creating a successful day, with a chance for questions and comments from the audience. I felt privileged to have had the opportunity to attend, and learnt a lot from the different perspectives of the speakers.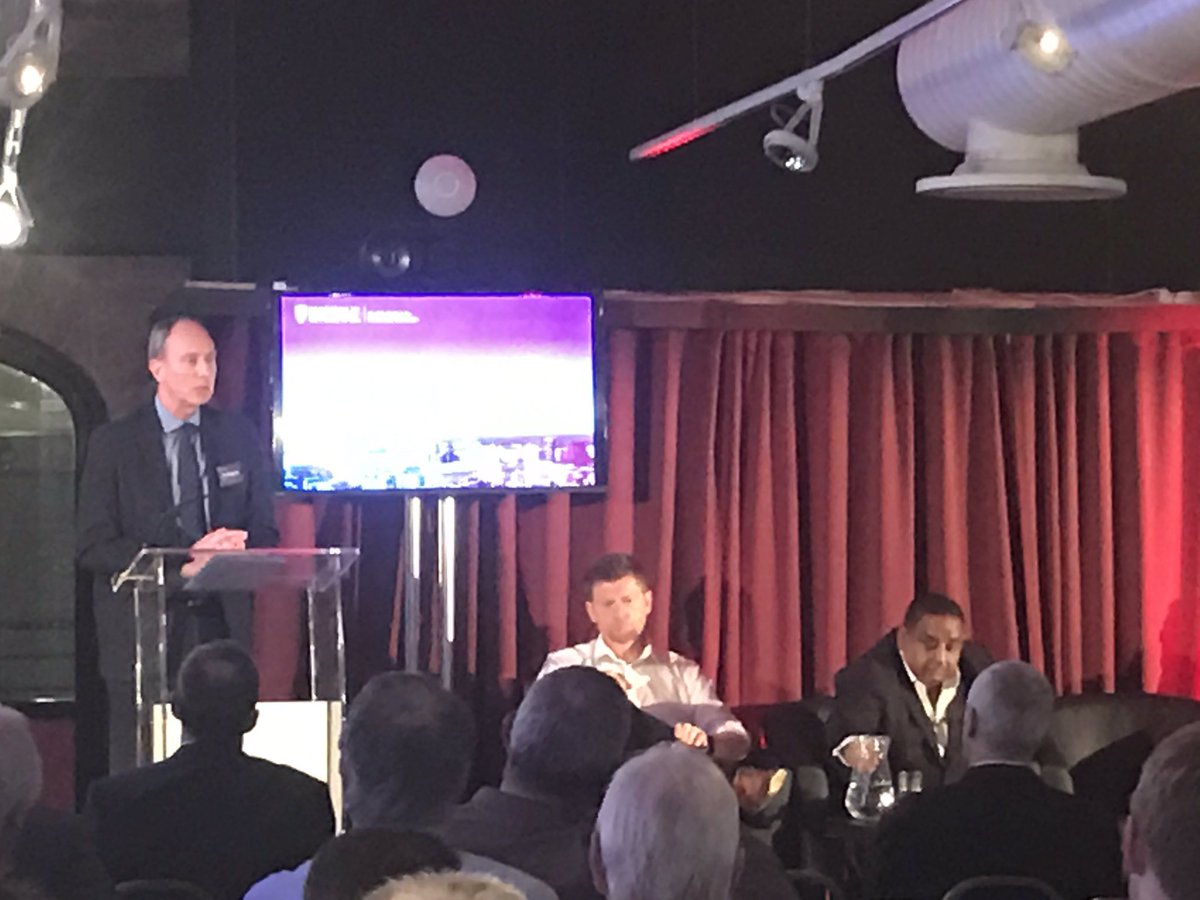 The debate surrounding Brexit and what it means is far from over, and from what I have seen there has been no proper plan outlined on how best to carry out this exit; before or since the referendum result in June. Brexit may still happen but there is many political and legal reasons why it could prove to be impossible to deliver, and many will keep on the fight against. So is Brexit a risk or opportunity?, that is for us to decide as we move forward with optimism, in this time of uncertainty.